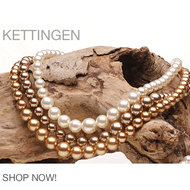 A beautiful necklace gives the finishing touch to your outfit. Whether it is exurberant or subdued, don't start your day without a necklace!
Kayee loves to work with the (imitation) pearl of Swarovski. At the heart of each Swarovski® crystal pearl lies a solid core of Swarovski® crystal, which is covered in layers of innovative pearlescent "nacre" to create a flawless, silky-smooth surface that resists cosmetics, chemicals and perfumes.
They have a natural weight and adapt to the warmth of your skin like a real pearl. The Swarovski pearl is available in more than 50 colors, from pastel hues to gemstone colors. At Kayee's you will find the perfect necklace for every opportunity and outfit.